15 Memorable Moments of 2015 as Seen on Social Media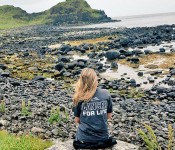 As we say goodbye to 2015, here are just a few (of the many) memorable social media posts from the Longwood community over the past year. Enjoy.
1. VP Debate Buzz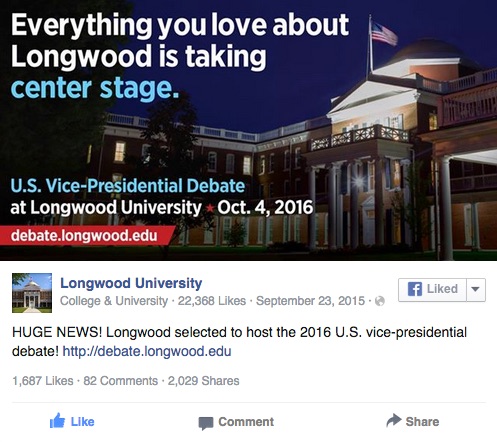 From the impromptu celebration on Beale Plaza to the news teams that arrived on campus, Longwood's selection as the site of the only Vice Presidential Debate of the 2016 election was the talk of the town!
2. Ty Pennington Crashes Commencement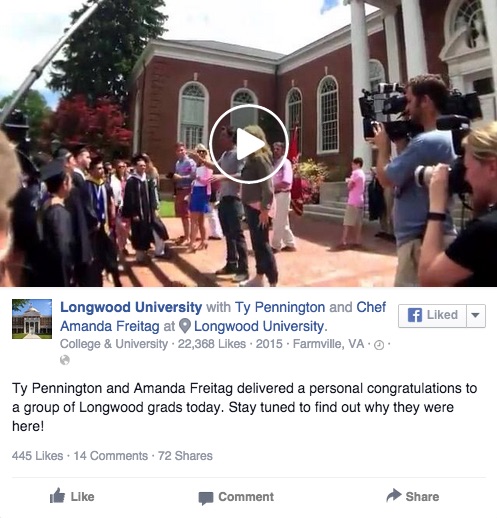 They brought the energy, that's for sure! In the middle of renovating downtown's iconic Walker's Diner with brothers from Theta Chi, Food Network stars Ty Pennington and Amanda Freitag rallied support after commencement for the big project.
3. Wheeler Through the Seasons
Wheeler Mall is often one of the first places our students step foot on campus during their admissions tour and it's where they take their last steps as students at commencement.
4. Big South Champs  #GoWood
That's right: Longwood softball took home the title! Go Lancers!
5. Sunrise, Sunset
The beauty of our campus is on full display at sunrise and sunset… and any other time, really.
6. Legacy Locks
You can throw away the key—these locks will be around for generations to come. In a new tradition, seniors and alumni attached their own locks to a fence on campus, and each year seniors will add theirs as their time on campus comes to an end.
7. Live from French Hall, it's Saturday Night!
Longwood's new $1.4 million two-story TV studio gives comm studies students a chance to learn on the same equipment as the pros. We just hope they don't have too much fun with that green screen!
8. Food on Wheels
Ask and you shall receive. Longwood's Dining Services brought the food to Beale Plaza this year for hungry students to grab a bite on the go or just have a change of pace from D-Hall! Despite the wheels, looks like it's here to stay!
9. Monumental NY Times Spread
Professor Michael Mergen's thought-provoking photography collection of Civil War monuments caught the attention of the New York Times Magazine, which ran a spread of his work in the Oct. 18 edition.
10. Virginia Children's Book Festival
In its second year, the Virginia Children's Book Festival brought award-winning children's authors and illustrators to campus and about 2,500 children.
11. Students Making a Difference
Our students continued to show what citizen leadership looks like. Throughout the year social media posts like this one displayed students' willingness to get out in the community and make a real difference.
12. Alumni Citizen Leaders
Bravo to the @longwoodu students who selflessly donated kidneys to strangers! #OrganDonation #SavingLives https://t.co/JI97RPrubE

— VCU Transplant (@VCUTransplant) December 7, 2015
Our alumni also showed how they take citizen leadership beyond graduation.
13. A New Home for Alumni
The opening of the Maugans Alumni Center this year provides our alumni with a true home when they return to Longwood. The official opening in September brought hundreds back to campus.
14. #Longwood19 Travels the World
The Giants Causeway in Northern Ireland #longwood19 pic.twitter.com/qpBiu1tQu8

— Sheyenne (@sheyenne_stretz) July 26, 2015
The incoming freshman class took their orientation T-shirts across the globe to show they are already Lancers for Life!
15. Real Research
Superstar @longwoodu undergrads setting up remote data collection in a #Chesapeake Bay tributary. pic.twitter.com/pMHtNGllx5

— K Fortino (@KennyPeanuts) July 13, 2015
From DNA sequencing to geriatric quality-of-life issues to the psychology of stress, our students were immersed in undergraduate research opportunities throughout the year.
Did we miss any of your favorites?  Let us know in the comments below.
Comments